I have a personal connection with this aircraft type, my father served on it during his Air Force enlistment. He has a yearbook of sorts, and I have very fond memories of listening to his active duty experiences. He'll still tell you one, if you ask.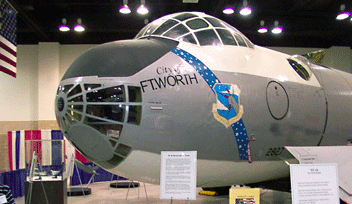 It's a huge beast, and isn't preserved in great numbers. In fact there are only four in displayable condition, and the one here in Fort Worth needs a permanent home. The City of Fort Worth is its name, and it was renovated with a ton of volunteer time (over 40,000 hours) and support form Lockheed Martin.
There are several terrific sites devoted to the B-36, and most have links to donation sites for a new home.
Update: added the top link:
B-36 Peacemaker Museum
www.b-36.net
Goleta Air & Space Museum
Convair B-36 Peacemaker and YB-60