The Onion | FDA Approves Sale Of Prescription Placebo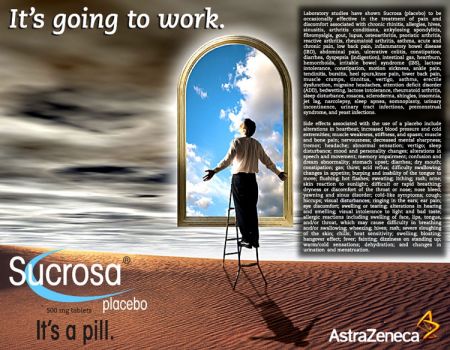 "For years, scientists have been aware of the effectiveness of placebo in treating a surprisingly wide range of conditions," said Dr. Jonathan Bergen of the FDA's Center for Drug Evaluation and Research. "It was time to provide doctors with this often highly effective option."
…
"For years, I battled with strange headaches that surfaced during times of stress," Kohler said. "Doctors repeatedly turned me away empty-handed, or suggested that I try an over-the-counter pain reliever?as if that would be strong enough. Finally, I heard about Sucrosa. They said, 'This will work,' and it worked. The headaches are gone."
…
As industry analysts predict the drug's sales will top $25 billion in the first year, the approval of placebo is expected to unleash one of the pharmaceutical industry's biggest marketing battles to date.
Finally, a drug I'd be glad to prescribe.
via Cut to Cure