I had to let an old friend go today: the calculator that accompanied me for years and years of school and travels finally succumbed to the LCD wasting illness.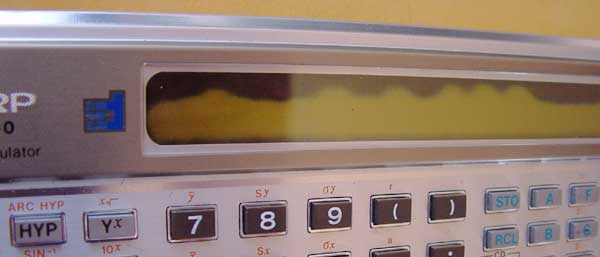 This excellent calculator joined me in 1981, during frosh chem at junior college, and stayed with me through it all: BS, MS, MD.
As with all degenerative problems, I had noticed the early signs but decided it was probably nothing, and 'they all do that'. Then the symptoms became more pronounced, the dark edges didn't really affect its basic function, and lended a certain funkyness.
Reality set in this week. The numbers are now barely legible; the spirit is strong, but the display is weak. I bought new batteries, but to no avail.
I am ashamed to say I dropped the friend in the trash, but quickly dug it out (sorry). It will be retired to a shelf in my office, where it'll be my heirs responsibility to dispose of.
Sharp no longer makes a calculator in the format of the EL-5100, which is a shame. I'll get a replacement, and it'll probably be another Sharp.