CNN.com – West Nile ready for its close-up – Dec. 2, 2003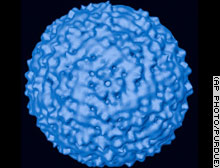 The first high-resolution images of the West Nile virus reveal a tiny microorganism that looks something like a bumpy gum ball.

The three-dimensional images obtained by Purdue University researchers give scientists their most detailed look yet of the virus and could help them design drugs to disarm it.

The Purdue team found the virus to be about two millionths of an inch wide — small even in the minuscule realm of viruses.

"It's small as viruses come, but that doesn't diminish in any way its ability to infect and kill cells," said Richard J. Kuhn, a professor of biological sciences in Purdue's School of Science.
Pretty picture, ugly virus.