From Quizilla, "What Muppet are you?"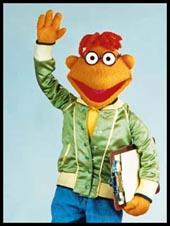 This might be the prototype for an ER doc:
You are Scooter.
You are a loyal, hardworking person, better known as a doormat.
SPECIAL TALENTS: Going for stuff.
LEAST FAVORITE MOVIE: "Go For Broke!"
QUOTE: "15 seconds to showtime."
LAST BOOK READ: "300 New Ways to Get Your Uncle to Get You a Better Job "
NEVER LEAVES HOME WITHOUT: Coffee, clipboard, and Very Special Guest Stars.
Well, at least the coffee is right.
via Kill as Few Patients as Possible and Cut to Cure