Press Releases and Media Advisories, from the US Air Force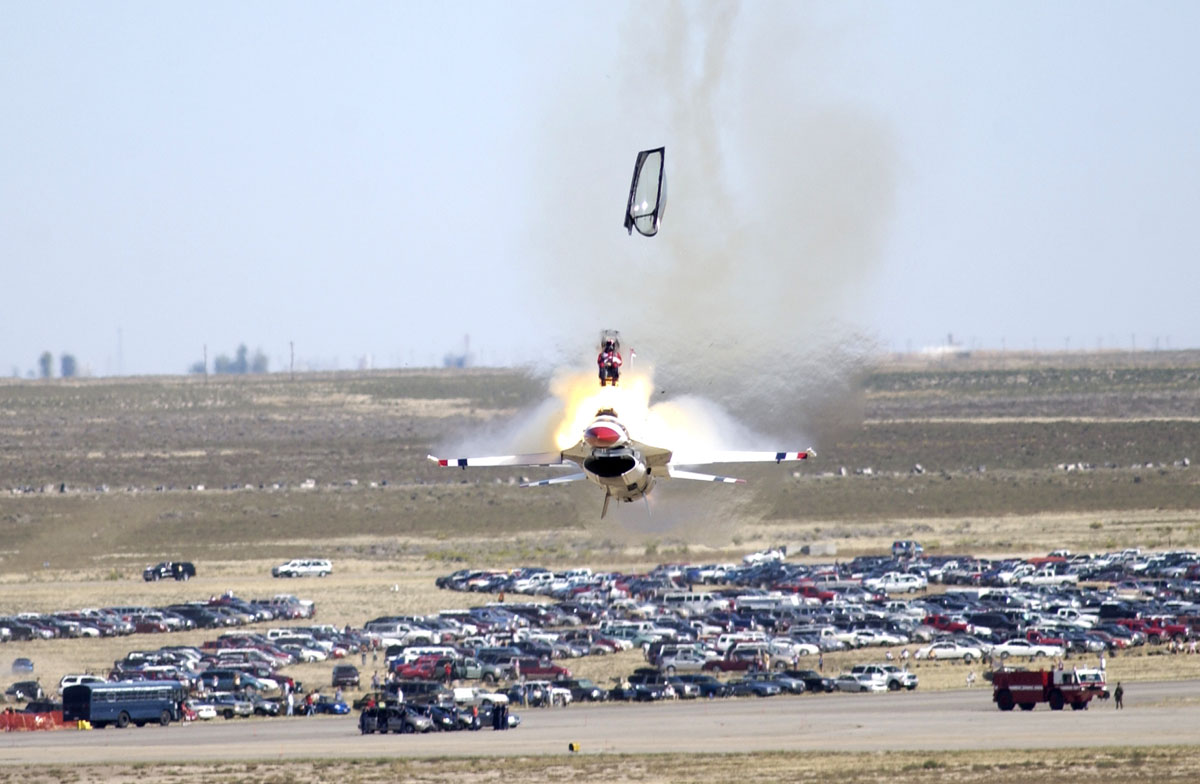 LANGLEY AIR FORCE BASE, Va. – Pilot error caused a U.S. Air Force Thunderbirds F-16 aircraft to crash shortly after takeoff at an air show Sept. 14 at Mountain Home Air Force Base, Idaho.

The pilot ejected just before the aircraft impacted the ground.

According to the accident investigation board report released today, the pilot misinterpreted the altitude required to complete the "Split S" maneuver. He made his calculation based on an incorrect mean-sea-level altitude of the airfield. The pilot incorrectly climbed to 1,670 feet above ground level instead of 2,500 feet before initiating the pull down to the Split S maneuver.

When he realized something was wrong, the pilot put maximum back stick pressure and rolled slightly left to ensure the aircraft would impact away from the crowd should he have to eject. He ejected when the aircraft was 140 feet above ground — just eight –tenths of a second prior to impact. He sustained only minor injuries from the ejection. There was no other damage to military or civilian property.

The aircraft, valued at about $20.4 million, was destroyed.

Also, the board determined other factors substantially contributed to creating the opportunity for the error including the requirement for demonstration pilots to convert mean sea level and above ground level altitudes and performing a maneuver with a limited margin of error.
I love to see airshows, and the Thunderbirds put on one heck of a show. I'm partial to the Blue Angels, but it's subjective, I know. The act of getting out, 8/10ths of a second prior to impact, took some real guts, and I'm always amazed at our pilots' abilities.
It's a cool photo, but I don't know the source ("the Internet is your daddy"); if it's yours, please let me know. I'm not trying to rip anyone off.

That said, there's a 20 million dollar smoking hole because a demonstration pilot cannot convert MSL and AGL? Huh? What happened in the preflight briefing?
Also, that'd be a hell of a pay deduction. I went No Pay Due while embarked on the boat once (long, not so amusing story), and all I owed was 5K. I figure he'd be eligible for pay again during the fourth Mrs. Cinton administration.