Okay, this is something I think they're going to have trouble keeping in stock: band-aids made to look like duct-tape. Via OhGizmo, we learn
The plasters are designed to look like duct tape, presumably so that the wearer doesn't feel embarrassed about wearing them. They also come in longer lengths for larger fingers, while the packaging is designed to fit easily in a toolbox.
And, they look cool too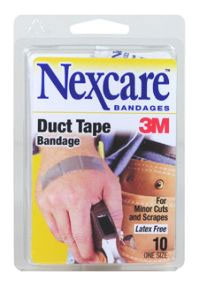 Yeah, I'll need some. They're not in stores yet, but I'd check Lowes or Home Depot first.