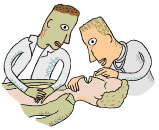 Tonight, after hearing about the 5th overhead call for a Code Blue in the hospital, it occurred to me what an anachronism this overhead announcement practice is, and quite a pointless one. I think it should be stopped, and here's why.
First, I understand that a code requires a marshaling of resources: in no particular order, the House Supervisor, a Respiratory Therapist, the physician in charge of the patient, or the anesthesia / EM doc in house. With those people, and the nurses and techs available on any inpatient ward in the hospital a very effective code can be run, and the patient can be moved to the ICU if it is successful.
What do all those parties just listed have in common? They are in-house (except the PMD, but their surrogates count here, and the PMD isn't going to hear the overhead page at home anyway) and they have pagers, at a minimum. They can all be marshaled in mere moments, and a discreet paging for a code would no doubt cut down on the number of gawkers who accumulate in the hallways outside the patients' room. There's no reason to disturb the entire hospital for a code call.
This goes double for the ridiculous practice of calling codes in the ICUs (or the totally absurd calling of codes in the ED I once worked in). Look, if you cannot handle a code in one of those places with the people you've got, you need to get out of the hospital business.
So, why the overhead pages? I can think of two reasons. The first is historic, the 'we've always done it this way' model. There is a need to alert a small cadre of people to come and help in a code, but that number is really very small, and with modern technology overhead calls are a disruptive throwback to olden times.
The second reason is just a guess, but I often wonder if this isn't done on purpose, to let everyone in the hospital know that this is serious business, and it doesn't get much more serious than a code. (Why do we call them Codes, anyway? Everyone in the hospital over the age of 10 has seen enough TV to know what a Code Blue is, it's a euphemism).
So, I think we should start pushing our hospitals to join the 21st Century and stop calling codes overhead. I intend to start tomorrow.