In the "FDA is getting serious, finally" category (via Medscape):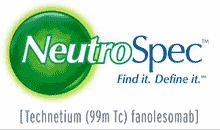 Dec. 19, 2005 "The US Food and Drug Administration (FDA), Mallinckrodt, and Palatin Technologies, Inc, have notified healthcare professionals regarding the immediate suspension of technetium [99m Tc] fanolesomab (NeutroSpec) from the market pending further investigation into reports of cardiopulmonary reactions associated with its use.
…
The action was based on the serious and potentially fatal nature of these adverse events and the availability of safer methods for diagnosing appendicitis, according to an alert sent today from MedWatch, the FDA's safety information and adverse event reporting program.

There is no evidence of long-term risk among those who have safely received the product, according to the FDA.

The FDA has received postmarketing reports of 2 deaths and 15 life-threatening adverse events after administration of technetium [99m Tc] fanolesomab. Onset of these events occurred within minutes of injection and included cardiac arrest, hypoxia, dyspnea and hypotension requiring resuscitation with fluids, vasopressors, and oxygen.
…
A review of all postmarketing reports has yielded an additional 46 cases of similar but less severe adverse reactions, all occurring within minutes of technetium [99m Tc] fanolesomab administration. According to the FDA, the consistent characteristics and rapid onset of these events suggest that a causal role for the antibody component of the product is likely.

Technetium fanolesomab is a radiolabeled murine IgM monoclonal antibody indicated for use in the scintigraphic imaging of patients aged 5 years and older with equivocal signs and symptoms of appendicitis.
NeutroSpec has been taking out full-page ads in the EM trade journals touting its intended use in the diagnosis of 'equivocal' appendicitis. To my knowledge nobody at our joint ever used it. (And it's too bad it's gone, I was hoping it'd be useful in the pregnant RLQ-pain patient in which a sono didn't help).
And, on to the rant: 10 years ago there was an 'acceptable rate' of about 10% for the removal of normal appendixes from patients with right lower quadrant abdominal pain. Since then there seems to be a major push to never take out an appendix without a CT or a sono confirming the appendix is the answer. This doesn't sound like medical progress to me, it sounds a lot like CYA testing.
(We have one crusty surgeon who used to go ballistic when called that we have a positive appy on CT: "So, you had a patient with RLQ abdominal pain, rebound and guarding, and you got a CT instead of just calling me?"). He tries to assure us that none of the surgeons want a CT for appy, and we tell him, politely, that our experience with that same telephone call doesn't bear out his assertion. (I want the crusty guy to just take mine out, thanks).
Yes, minimizing trips to the OR is arguably a good thing, and I'm not advocating needless surgery, but this is one example of the increasing applications of technology in medicine, whether it's really needed or not.
Oh, and if you google for NeutroSpec, there's already plaintiff atty. ads over on the right. And they have the gall to wonder why they aren't well-regarded.