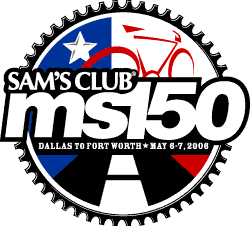 I was planning to ride today and tomorrow in the Multiple Sclerosis 150 mile ride here in DFW, sponsored this year by Sam's Club. I have a very nice bike, though I've been working so much I haven't gotten a lot of riding in for preparation. I'm mostly sure I could finish day 1, though day 2 would be a challenge, to say the least.
No matter. This weekend we're so shorthanded I have been scheduled on. I'm not terribly happy about it, but if there's nobody else, well, then it's on me. So, I'll be there in spirit, if not in person. I have a nice riding outfit for the team, and I suppose I'll just wear it while riding for fun (I see a lot of old team jerseys when I ride, so now I'll join that club, though on a pass).
It may rain, and that'll be better than the blazing sun I would have predicted.
Good luck, riders, and if you not riding have an extra buck, the MS Society is taking donations.