Via Wikipedia: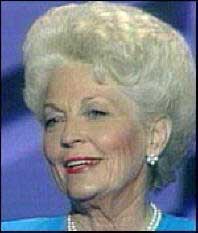 Dorothy Ann Richards (September 1, 1933–September 13, 2006) was an American politician from Texas. She first came to national attention as the witty keynote speaker at the 1988 Democratic National Convention (detailed below). Considered the first woman elected Governor of Texas in her own right, she served in that post from 1991 to 1995; she was defeated for re-election in 1994 by George W. Bush, current President of the United States.
I never voted for her (too young, then not my candidate) but she was always entertaining to listen to.
Esophageal cancer isn't very common, and bad when it happenss Condolences to her family.