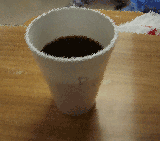 I was walking into work yesterday, and the very first thing anyone says to me is "the coffee maker is broken". I briefly considered leaving ("no coffee, no work"), but steeled myself for the horror of a caffeine-free shift.
Then, I remembered I have resources and a loving family, who I also knew were visiting a Target store at that minute. Coincidence? I think not.
An hour later, a new coffee maker for me the department, and I spared my colleagues the discomfort of seeing me in full caffeine withdrawal.
That was close.