…occasionally even if you don't want them.
We recently beta-tested some new phones for the ED (and again they didn't work out as promised). We tested two different models, and one was clearly better than the other. How much better?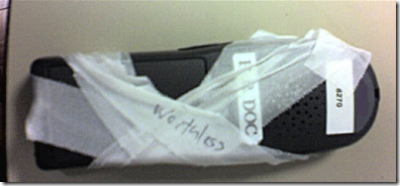 And there it sat, in the Doc's room, for the rest of the trial. (We all agreed with the assessment).
Does anyone have an actual workable, reliable in-ED communication system? We've tried Nextel: their radio feature is okay, but we/they cannot get the phones to work indoors (despite miles of wire, specialized antennas, and every level of tech help they were able to offer). We looked at Vocera, but were scared off by a) concerns about background noise interfering with their function and b) their reported initial price quote.
Our ED seems to be a comm black hole.