Archives for March 2008
And here's to many more!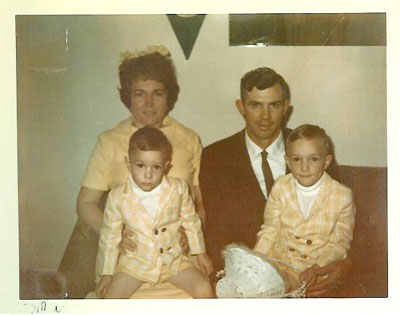 I still have the Prius, but I no longer drive it. It's now piloted by my youngest daughter, who had to give up her Ford Crown Victoria Police Interceptor (2005) for it.
Yes, I got my daughter a Crown Vic PI for a first car. It seemed at least somewhat logical: a big, safe car that's also cheap, as it'd been lightly wrecked by the Nacogdoches, TX Police Department and auctioned off (91,000 miles, no nonsense interior). My dad fixed it up to excellent running condition, and it looked pretty good with a blue paint job.
Daughter liked the car, sort-of, but its size intimidated her, and she wouldn't drive it any more than to and from school (bug, or feature?). At any rate, the Ford now resides with my eldest daughter and son in law, so it's still in the family, and they like and drive it. The Prius is in good hands, and I have a new ride I won't be talking about because it's so nice it's embarrassing. It gets 21 MPG, which isn't the 44 I got with the Prius, but I can live with it.
Youngest daughter occasionally laments the loss of acceleration, but really likes the tiny bill when refueling, which more than makes up for the lessened horsepower.
Because I know you want to know these things, that's why.
Subsequent to Operation Iraqi Freedom in March 2003, which culminated in the liberation of twenty five million Iraqis from the brutal, corrupt dictatorship of Saddam Hussein, Iraq has struggled in its attempts to organize an independent government, which could legislate effectively and provide for the basic needs for all its citizens.Post-conflict rehabilitation has been further complicated by the injurious effects of decades of war, hateful sectarianism, rampant corruption, and an insurgency that has devastated the infrastructure, both human and physical. Few examples of this are more glaring than the collapse of public healthcare.

Throughout this system, there are vast needs for high and low tech medical equipment, basic hospital supplies, and an ever more critical shortage of prescriptive drugs, especially antibiotics. Severus Worldwide will help address these needs using a direct/local approach.
A noble idea, and one worth supporting. I just wonder if the Roman helmet is the imagery that will ingratiate them with their Iraqi counterparts…
Yes, I'm the April 1st Host. Couldn't be happier. Please click the "contact" tab above to submit your link, before Monday the 31st at 3PM your time.
This will stay on top until Grand Rounds, do not adjust your browser. So much for my 'sticky' plugin.
Seriously, I didn't make up the headline. I'm not that funny. Good for her for lending some publicity to the cause.
Morgan Fairchild Joins Neurologists, Emergency Physicians and the American Stroke Association to Educate the Public About Stroke Symptoms

'GIVE ME 5' CAMPAIGN KICKS OFF TODAY

LOS ANGELES, March 26 /PRNewswire-USNewswire/ — Actress and activist
Morgan Fairchild has teamed up with the American Academy of Neurology
(AAN), the American College of Emergency Physicians (ACEP) and the American
Stroke Association (ASA). She is raising awareness about the warning signs
of stroke and the importance of getting to the emergency department fast
with a campaign called "Give Me 5: Walk, Talk, Reach, See, Feel."

…

"Saving someone's life – or even your own – may be as simple as
remembering 'Give Me 5,'" said Ms. Fairchild. "Do not ignore symptoms, and
do not delay getting to the emergency department. With stroke, every minute
counts."

Ms. Fairchild, star of film, theater and television, was caregiver for
her mother, who suffered a series of debilitating strokes until her death
in 1999. Ms. Fairchild will be joined on the campaign by Dr. Diana Fite, an
emergency physician who suffered a stroke in 2006 at age of 53, and thanks
to prompt medical attention, has since made a full recovery.
Dr. Fite's ordeal is chronicled here, and it's terrific she's recovered.
Am I the only one who cannot hear "Morgan Fairchild" without thinking of Jon Lovitz?
I'll be hosting the next Medical Blogs Grand Rounds (on April 1st), and am honored to be the first Five Time Host of this rotating weekly celebration of the Medical Blogosphere.
There will be no theme (though entries describing how themed Grand Rounds are dull will be considered).
I anticipate including all submissions, but reserve editorial judgment.
So, start your keyboards, and let's have a good one.
Submissions due Monday March 31st, by 3PM your time. (Late entries might be included, but will be abused for tardiness).
Update: PLEASE hit the 'contact' tab above and send your submission that way.
Grand Rounds Volume 4 No. 27 « monash medical student
Welcome to the 183rd edition, or No. 27 of Volume 4 of Grand Rounds. This week, I am honoured to present you the best posts from the medical blogosphere. All submissions have been included.I am a surgically-inclined medical student who someday hopes to a missionary surgeon. As such, i have interspersed amongst the posts some pictures from medical mission field around the world.
A very pretty B&W presentation.
Influenza Flu – Possible Pandemic – Shortage of Ventilators – New York Times
It may sound unthinkable — the idea of denying life support to some people in a public health disaster like an epidemic. But a new report says doctors, health care workers and the public need to start thinking about it.
The headline is misleading; it's not about choosing who gets a vent (everyone who needs one), it about what to do when they're all in use, and another is needed: who gets taken OFF the vent?
I sincerely hope I'm never in the position to have to make that decision. Knock on wood, and all that.
Pilot's gun discharges on US Airways flight 12:14 PM | Local News | News for Charlotte, North Carolina | WCNC.com | Top Stories
CHARLOTTE, N.C.– A gun carried by a US Airways pilot accidentally discharged during a flight from Denver to Charlotte Saturday, according to a statement released by the airline.
First, I'm betting they had to take the plane out of service to clean up the cockpit.
Accidental discharges (mistakes in weapons handling and safety) (which is not "the gun just went off": that doesn't occur) happen eventually to everyone who handles weapons enough. The very very experienced range masters where I go will confess to accidental discharges, and do so to educate how their mistakes occurred and the lessons they learned. (These lessons invariably wind up being 'get your finger off the trigger, and don't let yourself get distracted').
Most AD's are non-events in the permanent-damage category, though I can certainly see how the cockpit of an aircraft would provide dozens of chances at a bad outcome. I wonder if the TSA and the airlines have a procedure that covers this? Probably it is 'land safely, let's talk about it on the ground'.
I was aware of the cockpit armed pilot program (or whatever its Orwellian name is), and thought it a good idea. Given the frequency of AD's I still think it's a good idea, but confess I hadn't given weapons handling accidents much thought. Now I will, and here's something else to get the flying public a little more anxious.
Update: Pilot suspended, from the armed flight deck officer program, and from fight status.
Polite Dissent » Grand Rounds (Volume 4, #26) – The Roundup: comics, medicine, and medical comics
Welcome to Grand Rounds, the weekly roundup of the best medical blogging on the web. This week I present to you a score of posts and articles to entertain you, catch your attention, and get you thinking. Enjoy!
Grand Rounds was done here in the style I really like: succinct and to the point. but, I can't help but notice that submissions seem to be falling off (20 links in this GR). Probably just a Spring slump.
Update: Instapundit Links to Grand Rounds, and says 'they stopped sending me links'. For the record, I sent him links to all of them I did, and I think he linked 2 of them.
Update: this morning there was a message on my answering machine, from an Amazon.com Vice President, asking me to call him in relation to this post.
I called, and he was very polite and apologetic about the packaging, which I think was a problem in that it's an excessive box for the item, necessitating a lot of the plastic air-cushions, but much worse, the electronics are in the corner, where the damage happens, without any padding.
He tells me Amazon plans to change their packaging 'of this product', and others like it, in response to this blog post. It was a terrific customer service interaction. Their responsiveness is nothing short of amazing, and they're to be commended.
And, there's another lesson here having nothing to do with packaging: this is a semi-anonymous blog, and within a day of posting Amazon figured out who I was without any trouble whatever. Don't think you're anonymous on the internet.
From Amazon, today (originally posted 18MAR08 @ 1850):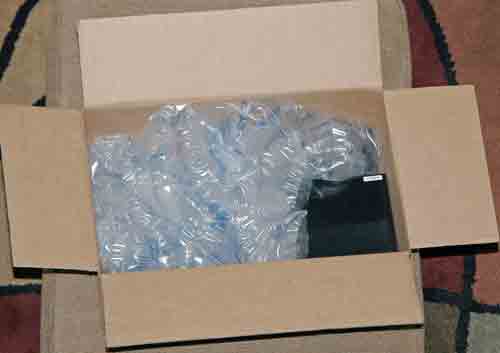 This is amusing, and the electronics work, but it's one of those "what were they thinking?" things…