People with better than average web searching ability are said to have "GoogleFu", which is not to be confused with their latest creation, which I call GoogleFlu, and they named Flu Trends.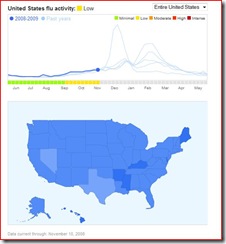 They say it'll allow users to find out where the flu is faster than the CDC maps, which is both true (faster than the CDC maps), and a little misleading: they're not actually tracking the flu.
What they are tracking are keywords (via WSJ Health):
for instance "cough," or "fever." It displays the results on a map of the U.S. and shows a chart of changes in flu activity around the country. The data is meaningful because the Google arm that created Flu Trends found a strong correlation between the number of Internet searches related to the flu and the number of people reporting flu symptoms.
So, they're not tracking flu cases, they're using keywords with a demonstrated correlation to draw a map.  So, this will not be specific to influenza, but would also show where people are searching about their cold symptoms.
It bears watching, but remember it's not counting actual flu cases like the CDC.