Recently I asked if people were still putting ICE (In Case of Emergency) information in their cellphones.  (The surprising answer was yes, showing that it's an idea that resonates, at least with my audience).
I lamented that I have that information in my iPhone, but since it's passcoded no rescuer would be able to access my dutifully entered ICE contact information.  (I then had delusions of retiring on just such an app).
There is a solution.  It's brilliantly simple, and works. Polka have written an iPhone app called "Close Call" that fits the bill perfectly.  And it's free!
I made one for this review, using a picture in my camera: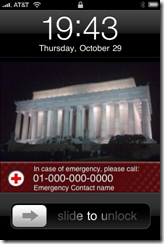 Many thanks to Ramona for finding this!
FTC disclaimer: this was completely voluntary.  I paid for my own free app.