Well, how I remember.
I've been fortunate enough to travel in and out of DFW several times recently.  I fly American most of the time, because I like to see just how small a seat I can get into, and guessing which terminal I'll return to is unpredictable, which is what every traveler wants at the end of a journey.  Win win.
I've taken to snapping a photo of the nearest parking lot ID post.  To their credit, no "Itchy vs Scratchy" lots at DFW, and terminal D is well marked indeed: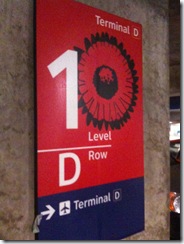 You're about to say 'how can you forget where you parked', and congratulations on your superior memory.  Me?  I have a picture to remind me.