I've been asked this quite a lot recently, and have no idea.  I know, more or less, the commenters, but there are quite a number of readers who don't comment.
So, who are you?  Scouts' Honor, now, and you're only allowed to vote once.  (I'm not looking for any particular answer here, it's just a completely unscientific survey…).  Choose one.  It's up to you.
Weird.  Buttons don't display properly.  The TOP one is "VOTE", the LOWER one is "VIEW RESULTS".  Weird.
I'll turn this off in a week or so.  I'm interested in knowing who the nine of you are!
Update: After about 24 hours of voting: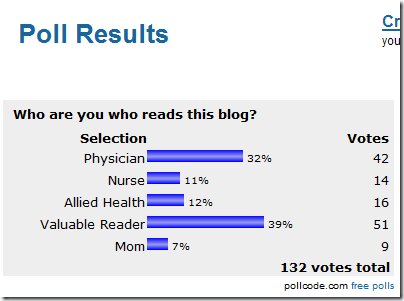 I find this very surprising,  Lotta docs (comparatively), fewer nurses than I would have thought, etc.  (It's totally unscientific, but it's interesting nonetheless).