A mentor recently mentioned, in passing, that he stopped riding motorcycles when cellphones came out, as he noticed the average driver distraction level had gone way up.  He said 'its like everybody's drunk'.
There's lots of ways to be an impaired driver: physical or mental fatigue, chemicals (legal and not), emotional extremes, etc. (this is not an exhaustive list).  What I want to focus on here today is a very controllable risk factor, divided attention.
A quick internet search turned up some original research from Car and Driver on the subject of texting while driving compared with actual alcohol impaired driving, and the results are shockingly worse than I would have thought.  From their (admittedly limited but well done) study, texting is way worse than being at the legal alcohol limit, both reading and writing.
How bad?  This bad (please read the article; it's short, well written and will fill you with any leftover dread you don't get from looking at their illustration):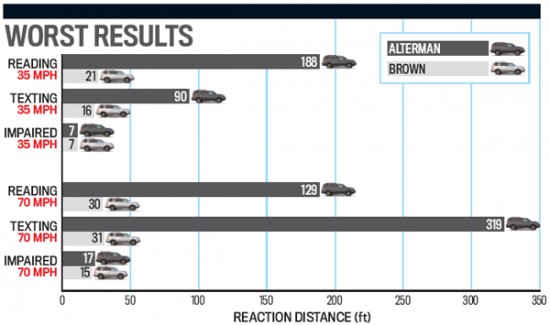 I, like C&D, would like to point out that this doesn't make driving under the influence okay, it doesn't.  What it does do is put into perspective the astonishing diminution of skill with divided attention between driving and texting.  It's 100 times worse when you consider that they knew they were being tested, and still had these results. None of us get into a car and say 'my reaction times will be severely tested today, I must be hypervigilant'.
Apparently we should, and just drive with this in mind: everybody's drunk, or worse.  (And pull over, park safely, then text – we'll all be glad that you did)