A guest post! (Finally, a use for my blog)!
So there I was, just cruising the Internet, when I thought to myself, "Jeepers! It's about time I checked on my ABEM Maintenance of Certification status! Golly, I might be late for the latest LLSA!"
Well, not really. But anyway, there I was on the ABEM website, when I ran into this rather odious new "click here to consent" barrier (see below).
Most of it was pretty standard – I certify everything is true, I won't cheat on the exam, I won't share test questions – OK, fine. Then we get to the particularly unsavory bits:
1. a mandatory arbitration clause.
This is a big deal, especially with the whole hubbub with ABIM and their MOC controversy. Essentially you are waiving the right to sue ABEM and must turn things over to an arbitrator, who is almost always going to find in favor of the big company and not you, the individual. And oh by the way, if there's a dispute, you have to schlep out to Ingham County, Michigan to do this arbitration – not in your home court system.
No me gusta.
Here's some information on why mandatory arbitration doesn't benefit you:
http://www.hotcoffeethemovie.com/default.asp?pg=mandatory_arbitration
TL;DR: pre-dispute mandatory arbitration is biased towards the larger organization and should be avoided at all costs. Given that ABEM is made up of us, the emergency physicians, we should be able to tell our specialty board to take their arbitration clause and shove it.
2. mandatory personal information sharing with Elsevier's for-profit "Official ABMS Directory".
The other part that I find undesirable is the mandated information sharing. I hate getting 15,000 tons of locums spam, advertising, and a bunch of other garbage in either my home or my work mail box, to say nothing of the 'helpful' phone calls and emails from headhunters trying to fill an EM job in BFE.
And yet, ABEM is mandating that we share our personal information with Elsevier – to then publish in in a for-profit "doctor's directory"?
To put it bluntly – EFF NO.
I'm an emergency physician. I don't need to advertise. I don't need to have people "looking me up" to see if I'm board certified. And oh by the way, I don't have an "office" – so I use my home address for most of my certification stuff. I definitely don't want that info out in public, especially given the casual disregard to privacy that is all too prevalent today. In my opinion, the less personal information shared, the better.
But there's NO WAY to opt out of this information sharing. Emailing or contacting Elsevier goes nowhere. We'll see what happens with ABEM.
Quite honestly, I find that overall, there's little regard to doctors' privacy, because people think "oh, you want people to find you so you get more business". No, I don't – not in our specialty. People find me just fine – they look for the big blue H sign on the highway, or the brightly lit sign that says "EMERGENCY – Physician on Duty". I don't need 'helpful' directories to publish all of my information.
I've sent out an email to ABEM, at abem@abem.org and moc@abem.org. You should too.
Let's fix this before it gets out of control.
Sameer Bakhda, M.D.
Monterey, California
Twitter: @sameerucla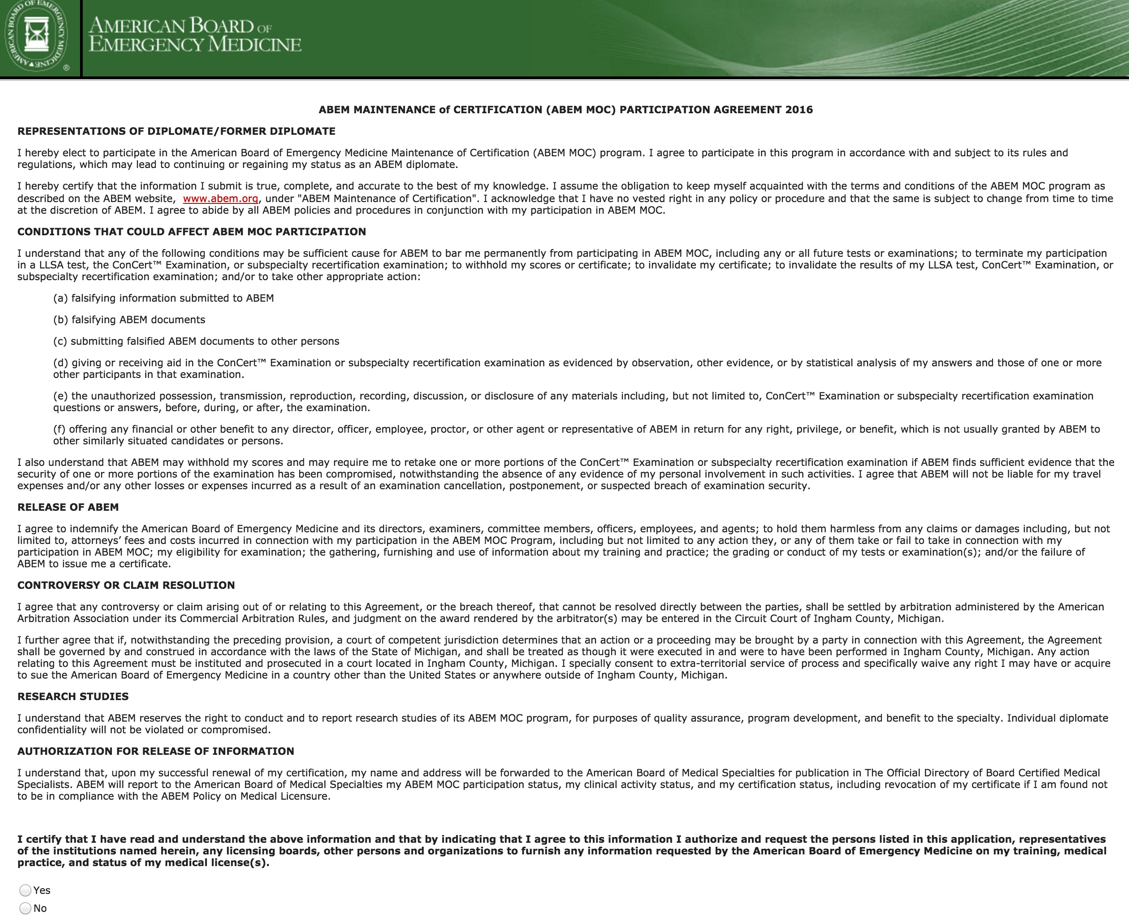 (Many thanks to Dr. Bakhda for the post! FYI, the title is mine, so blame me for that.)