From the San Jose Mercury News:
It all happened so quickly. A young displaced Iraqi woman was about to give birth, and her family had come to the Marines of the 15th Expeditionary Unit for help just after sunrise.

Fifteen minutes after she arrived by military ambulance, Navy Lt. Sean Stroup, 27, a San Jose native who serves as the unit's battalion surgeon, was assisting Jamila Katham with the birth of her baby.

"It was great," a satisfied Stroup said in an e-mail later that day to his parents, Steve and Robbi Stroup of South San Jose, "one of the few good things I've done while out there."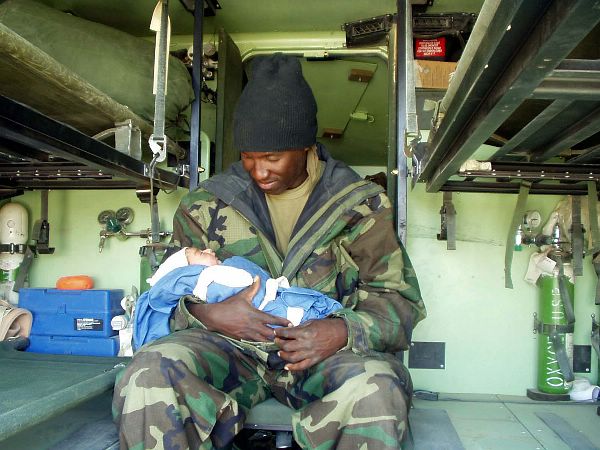 The picture ran last week on Navy News with the caption "Chief Hospital Corpsman David Jones of the 15th Marine Expeditionary Unit holds two-hour-old newborn Rogenia Katham, daughter of Jamila Katham, 20, in Nasiriyah, Iraq." (Looks young for a Chief, and he doesn't have a coffee cup).
The SJMNews story seems to have come from the Marine Corps News story, which has more details.
No one would expect less from a Navy doctor. Mother and child are doing well.
via the Cellar IOTD