My flight instructor died a few days ago.
One of the things I found out in reading his obituary (in the extended entry) was that his name wasn't Hank. That's what everyone always called him, and it tells much of his personality and temperament that Hank is a name that fit him comfortably.
Hank had existed at the airport my dad worked at (MAF), and indeed he was my dad's instructor when he finished his private pilot's license in the late 60's. Dad had a friend with a Cherokee 6, so on weekends I'd go with him when it needed a tweak, and Hank's FBO was at the end of the t-hanger row. He had a coke machine, so we went in there now and again. Hank was a Fixture.
Fast forward 30+ years, and I had returned to Midland, and wanted to take up flying. I didn't even look anywhere else, I called Hank, and we were off into the bright and open skies of West Texas. He taught me through solo, and a few more local hours, then it was time for me to move to Fort Worth. I owe him the gift of flight, and thank him for it.
My logbook, with a pittance of hours in it, will always be cherished by me, because of the interesting doodles Hank would put in the entries: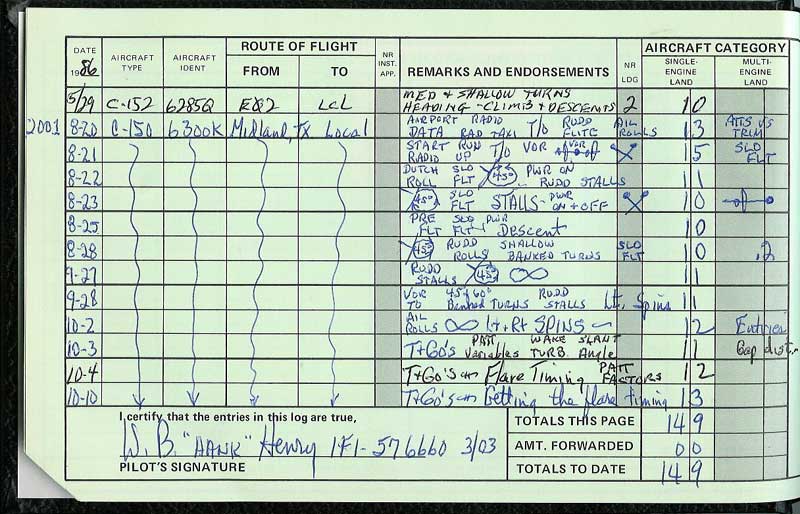 I don't know if that is a standard feature in logbooks, but I like it.
An aortic valve replacement put a serious crimp in his instructing career, so he was limited to VFR instruction, but took the every six month certifications with good spirit and good humor.
I failed him by not giving him a Polaroid after I'd soloed (he'd forgotten until after I'd moved), and I never sent it. I'll always regret that.
Rest in Peace, Hank. You were a Fixture, in the best way. You'll be missed.

Wayne Benjamin "Hank" Henry, 85, died peacefully at his home surrounded by his family on Thursday, October 6, 2005.
He was born in Big Timber, Montana on May 17, 1920 to Benjamin Frank Henry and Erna Hearn. Hank attended Linfield College, McMinnville, Oregon. His junior year he received his draft notice during World War II. He joined the U.S. Air Corps January 6, 1941. He was instrumental in the secrecy of training pilots Celestial Navigation, who went to the European Theater. Hank was discharged January 12, 1946. He went to Goodfellow Air Force Base, San Angelo, Texas where he taught new Air Force pilots, engineering, navigation, mechanics and weather.
Hank moved to Midland, Texas in 1957. He started Hank's Flite Center, Inc. in 1964. Since then, he has become a legend in the flying profession. His love of teaching was instrumental in his choice to train students towards a license. He trained thousands of students, many are your airline pilots today. He accumulated over 21,000 flight hours, most of those training students. He had received many awards from the Federal Aviation Agency, including Flight Instructor of the Year for Southwest Region in 1988. Hank's true loves were flying, teaching, hunting with his grandsons, playing the piano, dancing, and his family.
Hank is survived by his loving family members, his wife of 61 years, Bee Henry, daughter, Teri Morris and her husband, Tommy, all of Midland, TX; brothers, Gaylord John Henry of Parachute, CO; Franklin Hearn Henry of Santa Rosa, CA; grandchildren, Thomas E. Morris, IV and Paul Henry Morris of Midland, TX.
Memorial services have been scheduled for 11:00 A.M. Thursday, October 13, 2005 at First Presbyterian Church of Midland with Reverend Steve Schorr officiating. Arrangements are under the direction of Ellis Funeral Home.
In lieu of flowers, memorials may be directed to Hospice of Midland, P.O. Box 2621, Midland, Texas 79702.
Published in the Midland Reporter-Telegram on 10/9/2005.