The US Navy has had a skirmish with some pirates off the coast of Somalia, and unsurprisingly did well.
But, CNN has this oddness in their article: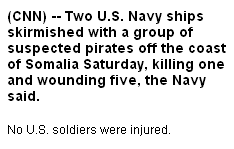 Perhaps I'm oversensitive on this issue, but it's baffling to me that reporters (and editors) are ignorant of even the most basic points of military nomenclature. For instance, the Army has soldiers, and the Navy has Sailors.
Update: They fixed it, to their credit.