Geez, the NY Times (obscure liberal paper in the Northeast) has interviewed several neurologists (and exactly one Emergency Medicine Physician) and has written a four-page article on stroke. They got little right.
It's a tour-de-force in obfuscation of fact, presentation of tragedy as preventable, and the presentation of TPA as an ignored wonder-drug, MRI should be the standard of care for new strokes, and frankly there's no redeeming value within. Nevertheless, I shall persevere, and even if it makes nobody other than me happy, I shall fisk to my hearts' content. (Many thanks to Notes from Dr. RW for bringing this to my attention, and for taking the hit for the rest of us and reading the NY Times, you poor wretch).
I was going to address this in the article as I got to it, but it's too good / on point to bury below the fold. Here's all you need to know about tPA for CVA (from AAEM), in a nice graphical form: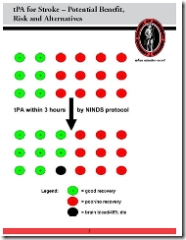 Lost Chances for Survival, Before and After Stroke

By GINA KOLATA

Dr. Diana Fite, a 53-year-old emergency medicine specialist in Houston, knew her blood pressure readings had been dangerously high for five years. But she convinced herself that those measurements, about 200 over 120, did not reflect her actual blood pressure. Anyway, she was too young to take medication. She would worry about her blood pressure when she got older.

Then, at 9:30 the morning of June 7, Dr. Fite was driving, steering with her right hand, holding her cellphone in her left, when, for a split second, the right side of her body felt weak. "I said: 'This is silly, it's my imagination. I've been working too hard.' "
Suddenly, her car began to swerve.

"I realized I had no strength whatsoever in my right hand that was holding the wheel," Dr. Fite said. "And my right foot was dead. I could not get it off the gas pedal." …

Dr. Fite is one of an estimated 700,000 Americans who had a stroke last year, but one of the very few who ended up at a hospital with the equipment and expertise to accurately diagnose and treat it.
Dr. Fite has been active in the practice and politics of Emergency Medicine for a good while, and I was unaware of her stroke. I hope she's recovering well.
Stroke is the third-leading cause of death in this country, behind heart disease and cancer, killing 150,000 Americans a year, leaving many more permanently disabled, and costing the nation $62.7 billion in direct and indirect costs, according to the American Stroke Association.

But from diagnosis to treatment to rehabilitation to preventing it altogether, a stroke is a litany of missed opportunities.

Many patients with stroke symptoms are examined by emergency room doctors who are uncomfortable deciding whether the patient is really having a stroke — a blockage or rupture of a blood vessel in the brain that injures or kills brain cells — or is suffering from another condition. Doctors are therefore reluctant to give the only drug shown to make a real difference, tPA, or tissue plasminogen activator.
This is a truckload of hooey. Any Emergency Physician worth the title does this for a living, and while it's challenging to sort wheat from chaff, it's why Emergency Medicine exists as a specialty. Yes, there is a tremendous differential diagnosis, but that goes with the territory. And reluctance to administer tPA for stroke is more than reluctance, there are solid reasons to be very very careful with the decision.
Many hospitals say they cannot afford to have neurologists on call to diagnose strokes, and cannot afford to have M.R.I. scanners, the most accurate way to diagnose strokes, for the emergency room.
Call schedules are dependent on the number of neurologists eligible for call, and MRI scanners are expensive, but from what I've been told they pay for themselves within a year or so. That's not to say that MRI is the standard of care for an acutely altered mental status (it's not), but pretty much every actual ED in the US has a CT scanner, and that IS the standard of care. This focus on the MRI throughout the article is mission creep for stroke that's not currently justified.
Although tPA was shown in 1996 to save lives and prevent brain damage, and although the drug could help half of all stroke patients, only 3 percent to 4 percent receive it. Most patients, denying or failing to appreciate their symptoms, wait too long to seek help — tPA must be given within three hours. And even when patients call 911 promptly, most hospitals, often uncertain about stroke diagnoses, do not provide the drug.
No, it's not 'uncertainty of the symptoms' it's reality that there are a lot of exclusion criteria for tPA for CVA, and given the stakes if it's gotten wrong it's very serious.
"I label this a national tragedy or a national embarrassment," said Dr. Mark J. Alberts, a neurology professor at the Feinberg School of Medicine at Northwestern University. "I know of no disease that is as common or as serious as stroke and where you basically have one therapy and it's only used in 3 to 4 percent of patients. That's like saying you only treat 3 to 4 percent of patients with bacterial pneumonia with antibiotics."
If antibiotics directly killed 3-4% (his number) of pneumonia patients, there would be a reticence to use them, too. This is a straw man, and isn't worth more discussion.
And the strokes in the statistics are only the beginning. For every stroke that doctors know about, there are 5 to 10 tiny, silent strokes, said Dr. Vladimir Hachinski, the editor of the journal Stroke and a neurologist at the London Health Sciences Centre in Ontario.

"They are only silent because we don't ask questions," Dr. Hachinski said. "They do not involve memory, but they involve judgment, planning ahead, shifting your attention from one thing to another. And they also may involve late-life depression."
These typically don't present to the ED, and when they do there's an utterly enormous differential diagnosis to go through before 'stroke' is considered. Even if 'stroke' is the diagnosis for these patients' presentations, their NIH Stroke Scale would be 0 or 1, and they would never be candidates for TPA in the first place.
…

One Tuesday morning in March, Dr. Steven Warach, chief of the stroke program at the National Institute of Neurological Disorders and Stroke, met with a team from Washington Hospital Center, the largest private hospital in Washington, to review M.R.I. scans of recently admitted patients. They were joined in a teleconference by neurologists at Suburban Hospital in Bethesda, Md., the only other stroke center in the Washington and suburban Maryland area. …

The images were mementos of suffering.
Their suffering is not to be minimized, it's real. And, there's no information given to tell which would or would not have arrived in the ED in the time to even be considered for tPA. This is an attempt to conflate bad outcomes with uncaring, or negligence, which is hooey at best and journalistic malfeasance at its worst….
But what was perhaps saddest to the neurologists viewing the M.R.I. scans that morning was that tPA, which only recently appeared to be a triumph of medicine, had made not a whit of difference to these patients. They either had not arrived at the hospital in time or had been considered otherwise medically unsuitable to receive it.
Aah, there you go. Excluded by time to presentation. This revelation waits until the heart-strings have been fully tugged, mind you.
Few would have predicted that fate for the drug. In 1995, after 40 years of trying to find something to break up blood clots in the brain, the cause of most strokes, researchers announced that tPA worked. A large federal study showed that, without it, about one patient in five escaped serious injury. With it, one in three escaped.
A study which has yet to be recreated in actual use. Real-life experience has been much less sanguine in its risk-benefit ratio.
The drug had a serious side effect — it could cause potentially life-threatening bleeding in the brain in about 6 percent of patients. But the clinical trial demonstrated that the drug's benefits outweighed its risks.
This is where EM docs say "huh"? So, even given it "only" causes 6% of patients to have hemorrhages into the brain, those patients die or if they survive they're worse off than before, and that's when they were having a stroke! So, a stroke patient (living, with a stroke) is converted to worse or dead. This is one of the big, big bones we have to pick with this therapy.
When the study's results were announced, Dr. James Grotta of the University of Texas Medical School at Houston expressed the researchers' elation. "Until today, stroke was an untreatable disease," Dr. Grotta said.

But the expected sea change did not occur.

One problem was that patients showed up too late. Many had no choice. Strokes often occur in the morning when people are sleeping. They awake with terrifying symptoms, paralyzed on one side or unable to speak.

"That's the challenge — we have to ask the patient" when the stroke began, said Dr. A. Gregory Sorensen, a co-director of the Athinoula A. Martinos Center for Biomedical Imaging at Massachusetts General Hospital. "If they don't know or can't talk, we're out of luck."
Simplisme. If we can reasonably infer, it's not exclusionary for the three hour window.
Another problem is deciding whether a patient is really having a stroke. A person who has trouble forming words could just be confused. Or what about someone whose arm or leg is weak?

"A lot of things can cause weakness," Dr. Warach said. "A nerve injury can cause weakness; sometimes brain tumors can be suddenly symptomatic. Sometimes people have migraines that can completely mimic a stroke."

In fact, he said, a quarter of emergency room patients with symptoms suggestive of a stroke are not actually having one.
Hello? Is this thing on? One fourth of patients thought to be having a stroke aren't. Still gung-ho to give tPA?
Most get CT scans, which are useful mostly to rule out hemorrhagic strokes, the less common type that is caused by bleeding in the brain and should not be treated with tPA. Stroke specialists can usually then decide whether the patient is having a stroke caused by a blocked blood vessel and whether it can be treated with tPA.But most stroke patients are handled by emergency room physicians who often say they are not sure of the diagnosis and therefore hesitate to give tPA.
Again a slur against Emergency Medicine Physicians. Yes, there are patients whose presentations are so complex we aren't sure of their condition. Should we just kill 3% and worsen the other 3% of them? No. Idiocy and advocacy aren't terribly far apart for this topic.
Dr. Richard Burgess, a member of Dr. Warach's stroke team, explained the situation: There is no particular penalty for not giving tPA. Doctors are unlikely to be sued if the patient dies or is left with brain damage that could have been avoided. But there is a penalty for giving tPA to someone who is not having a stroke. If that patient bleeds into the brain, the drug not only caused a tragic outcome but the doctor could also be sued. Few emergency room doctors want to take that chance.
I have a colleague friend, and his Emergency Medicine partner has been sued for giving tPA, and for not giving tPA. Tell me again there aren't disincentives for tPA use, and disuse?
Treatment Barriers

There is a way to diagnose strokes more accurately — with a diffusion M.R.I., a type of scan that shows water moving in the brain. During a stroke, the flow of water slows to a crawl as dead and dying cells swell. In one recent study, diffusion M.R.I. scans found five times as many strokes as CT scans, with twice the accuracy.

A diffusion M.R.I. "answers the question 95 percent of the time," Dr. Sorensen said.

It seemed the perfect solution, but it was not.

Most hospitals say they cannot provide such scans to stroke patients. They would need both an M.R.I. technician and an expert to interpret the scans around the clock. They would need an M.R.I. machine near the emergency room. Most hospitals have the huge machines elsewhere, steadily booked far in advance for other patients.

It is simply not practical to demand the scans at every hospital or even every stroke center, said Dr. Edward C. Jauch, an emergency medicine doctor at the University of Cincinnati and a member of the Greater Cincinnati/Northern Kentucky Stroke Team.

"If you made M.R.I. the standard of care before giving tPA, most centers would not be able to comply," Dr. Jauch said. And if it takes more time to get a scan — as it often does — it might be better to forgo it and give tPA immediately if the patient's symptoms seem unambiguous.
Finally the only EM physician in the article is heard from, and he's correct: you want diffusion MRI to be the standard? Fine, but about 1/100 potential tPA candidates will get them.
Doctors do not need an M.R.I. to diagnose and treat stroke, said Dr. Lee H. Schwamm, vice chairman of the department of neurology at Massachusetts General Hospital. But, Dr. Schwamm added, if the question is whether it helps, there is one reply: "By all means."

It has still not been shown, though, that M.R.I. scans actually improve outcomes. It might depend on the circumstances and the hospital, said Dr. Walter J. Koroshetz, deputy director of the National Institute of Neurological Disorders and Stroke.

But some who use M.R.I. scans, and who have studied them in research, say the system has to change. They say enough is known about the scans to advocate having them at every major medical center that will treat stroke patients.

"All these problems could be solved if there was a will to do it," Dr. Sorensen said. In his opinion, it comes down to old and outdated assumptions that there is not much to be done for a stroke, to financial considerations and to a medical system that resists change. But the most significant barriers, he said, are financial.
Yes, and logistic. I work in a stroke center (fully certified yet not showing up the the given link the JCAHO's search engine). I, and no doubt my colleagues, have had two potential stroke candidates at the same time. A CT for CVA takes about a minute; a diffusion MRI takes a lot longer, like 30 minutes. Not much time, you say? Empty MRI's lose money. Nobody has an 'extra' MRI machine waiting for another maybe stroke.
Another approach, stroke specialists say, is to direct all patients with stroke symptoms to designated stroke centers. There, stroke patients would be treated by experienced neurologists and admitted to stroke units for additional care. For the first time, in its newly published guidelines, the American Stroke Association recommended the routing of patients to stroke centers.
I work in a designated stroke center. If you come to our ED you'll be treated by an Emergency Physician. The Neurologists aren't coming in to see you and your stroke until the diagnosis has been made, and usually until the treatment is underway. Sorry.
But even with such a system in place, many patients end up at hospitals that are not prepared to treat them, as Dr. Grotta discovered in Houston.

He thought he could change stroke care in Houston with the stroke center idea. The first step went well — the city's ambulance services agreed to take all patients with stroke symptoms to designated stroke centers.

Then, Dr. David E. Persse, the city's director of emergency medical services, asked every one of Houston's 25 hospitals if it wanted to be a stroke center. While seven have said yes, others have declined.

Stroke patients, unlike heart attack patients, are not moneymakers. Because of the way medical care is reimbursed, most hospitals either lose money or do little more than break even with stroke care but can often make several thousand dollars opening the arteries of a heart attack patient. And being a stroke center means finding and paying stroke specialists to be available around the clock.

Soon another problem emerged. As many as a third of the patients refused to let the ambulance take them to a stroke center, demanding to go to their local hospital.

"By law in Texas, we cannot take that man to another hospital against his will," Dr. Persse said. "We could be charged with assault and battery and kidnapping and unlawful imprisonment."
Umm, not exactly. There are EMS protocols that allow EMS to bypass nice community hospitals for the Trauma Centers for those patients that need them. The same can be done for stroke patients.
The Joint Commission, which accredits hospitals, recently started certifying stroke centers, requiring that the hospitals be willing to treat stroke patients aggressively. But only 322 of the 4,280 accredited hospitals in the nation qualify, and most patients and doctors have no idea whether a hospital nearby is among them. (The list is available on the site http://www.jointcommission.org/CertificationPrograms/Disease-SpecificCare/DSCOrgs/ under "primary stroke centers.") Some states, like New York, Massachusetts and Florida, do their own certifying of stroke centers.

Nonetheless, most ambulances do not consider stroke center designations when they transport patients. And, said John Becknell, a spokesman for the National Association of Emergency Medical Technicians, national programs can be difficult because every community has its own rules for which ambulances pick up patients and where they take them.
Dang communities, and their local abilities.
As a result, most stroke patients have no access to the recommended care and even fewer get M.R.I.'s, a situation Dr. Warach said he found appalling.

"How can it ever be in the patient's best interest to have an inferior diagnosis?" he asked. "It borders on malpractice that given a choice between two noninvasive tests, one of which is clearly superior, the worse test is the one that is preferred."
This is a doctor trolling to be a plaintiffs' witness. I'm certain he means well, but he no doubt works in an Ivory Tower with all the resources he thinks he needs, but this is the sort of statement that gets working ER docs, and their consultants, hanged. Maybe he was misquoted. I hope so.
Averting Catastrophe

In those awful moments when she realized she had had a stroke, Dr. Fite, unlike most patients, knew what to do. She told the ambulance crew to take her to Memorial Hermann Hospital, even though it was about an hour away. She knew that it was one of the Houston stroke centers, that Dr. Grotta worked there, and that its doctors had experience diagnosing strokes and giving tPA.

When she arrived, Dr. Grotta asked if she was sure she wanted the drug. Did she want to risk bleeding in the brain? Dr. Fite did not hesitate. The stroke, she said, "was just so devastating that I would rather die of a hemorrhage in the brain than be left completely paralyzed in my right side."

"In my horrible voice, I said, 'Yes, I want the tPA,' " Dr. Fite said.

Within 10 to 15 minutes, the drug started to dissolve the clot.

"I had weird spasms as nerves started to work again," Dr. Fite said. "An arm would draw up real quick, a leg would tighten up. It hurt so bad I was crying because of the pain. But it was movement, and I knew something was going on."
Wow, good for her, and her bravery. TPA is often called a 'walk or die' drug, which is an overstatement on both sides of the equation, but I'm not so sure I would ask for it, even given the situation described.
…

As for Dr. Fite, she completely recovered. And she has changed her ways.

She was sobered by the cost of her treatment and brief hospital stay — $96,000, most of which was paid by her insurance company. But she was even more sobered by how close she came to catastrophe.

Now, Dr. Fite takes three blood pressure pills, a drug to prevent blood clots and a cholesterol-lowering drug. She plans to take those drugs every day for the rest of her life.

"I was so stupid," she said. "Boy, when you go through this, you never want to go through it again."

"I have been given that precious second chance," she said. "I was so blessed."
Again, good for her, she's a lucky person. But none of this says a) tPA should be given for anywhere near every stroke, b) that anything other than a plain CT read by a Board Certified Radiologist is needed, and c) the 'MRI for acute stroke' angle is weird agenda-pushing which is NOT the standard of care.
tPA: potentially good, risky therapy.
Emergency Medicine Physicians: not as dumb as made out.
MRI: not the standard of care, except in the NYT.