Geez, the NY Times (obscure liberal paper in the Northeast) has interviewed several neurologists (and exactly one Emergency Medicine Physician) and has written a four-page article on stroke. They got little right.
It's a tour-de-force in obfuscation of fact, presentation of tragedy as preventable, and the presentation of TPA as an ignored wonder-drug, MRI should be the standard of care for new strokes, and frankly there's no redeeming value within. Nevertheless, I shall persevere, and even if it makes nobody other than me happy, I shall fisk to my hearts' content. (Many thanks to Notes from Dr. RW for bringing this to my attention, and for taking the hit for the rest of us and reading the NY Times, you poor wretch).
I was going to address this in the article as I got to it, but it's too good / on point to bury below the fold. Here's all you need to know about tPA for CVA (from AAEM), in a nice graphical form: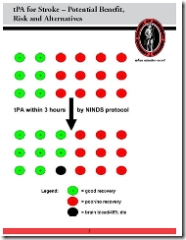 Lost Chances for Survival, Before and After Stroke

By GINA KOLATA

Dr. Diana Fite, a 53-year-old emergency medicine specialist in Houston, knew her blood pressure readings had been dangerously high for five years. But she convinced herself that those measurements, about 200 over 120, did not reflect her actual blood pressure. Anyway, she was too young to take medication. She would worry about her blood pressure when she got older.

Then, at 9:30 the morning of June 7, Dr. Fite was driving, steering with her right hand, holding her cellphone in her left, when, for a split second, the right side of her body felt weak. "I said: 'This is silly, it's my imagination. I've been working too hard.' "
Suddenly, her car began to swerve.

"I realized I had no strength whatsoever in my right hand that was holding the wheel," Dr. Fite said. "And my right foot was dead. I could not get it off the gas pedal." …

Dr. Fite is one of an estimated 700,000 Americans who had a stroke last year, but one of the very few who ended up at a hospital with the equipment and expertise to accurately diagnose and treat it.
Dr. Fite has been active in the practice and politics of Emergency Medicine for a good while, and I was unaware of her stroke. I hope she's recovering well.
Stroke is the third-leading cause of death in this country, behind heart disease and cancer, killing 150,000 Americans a year, leaving many more permanently disabled, and costing the nation $62.7 billion in direct and indirect costs, according to the American Stroke Association.

But from diagnosis to treatment to rehabilitation to preventing it altogether, a stroke is a litany of missed opportunities.

Many patients with stroke symptoms are examined by emergency room doctors who are uncomfortable deciding whether the patient is really having a stroke — a blockage or rupture of a blood vessel in the brain that injures or kills brain cells — or is suffering from another condition. Doctors are therefore reluctant to give the only drug shown to make a real difference, tPA, or tissue plasminogen activator.
This is a truckload of hooey. Any Emergency Physician worth the title does this for a living, and while it's challenging to sort wheat from chaff, it's why Emergency Medicine exists as a specialty. Yes, there is a tremendous differential diagnosis, but that goes with the territory. And reluctance to administer tPA for stroke is more than reluctance, there are solid reasons to be very very careful with the decision.