Archives for October 6, 2008
Dear UPS makers,
Thank you for making some really excellent products. My home has products of varying sizes made by several of your manufacturing colleagues, and they generally do a terrific job of protecting my sensitive electronics from the occasional power flicker.
I write, however, to ask you very nicely to QUIT with the dang BEEPING NOISES in your otherwise useful devices. The power has been out in my palatial abode for nearly three hours now, and I'd get some sleep were it not for the incessant hooting from self important UPS gadgets.
Yes, we know the powers' out. The loss of the fans, AC, and lights was quite enough a clue. No need to rub in our "lives in the stix" factor. No need for inanimate devices to keep us awake telling us "hey, the power is still off".
Nobody wants, or needs, these alarms. They were sold to you by the Vast Alarm Conspiracy. Done alarming every single thing in the hospital they went to you: flattered, you bought into their "your products' intended function deserves attention" mantra. You were lead astray, I tell you.
I implore you, as a man losing sleep while ranting into an iPhone, Stop It. Stop with the alarms.
Thank you, and a quiet good night, from everyone someday,
GruntDoc
I asked you to give me a caption to this photo, and we have a winner: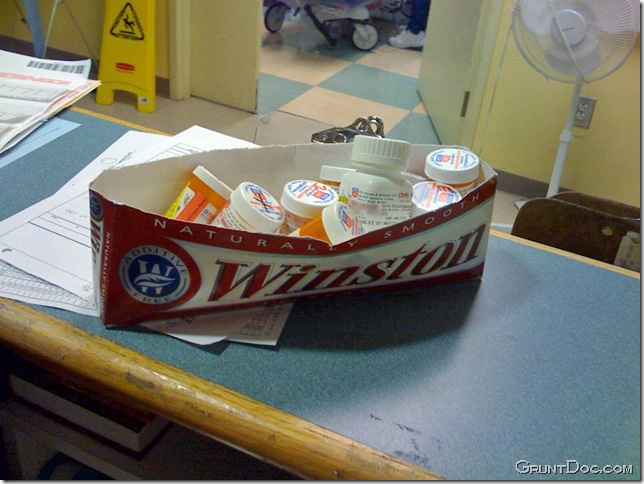 "North Carolina Prescription Drug Plan" by Doc
Honorable Mentions:
SkyDaddy with "I can haz oxygen?"
Warriorpear with "Doc, I had to smoke 400 packs in order to get enough points for my Winston Med Case… man, but was it worth it?!"
Ian Furst with "More doctors choose Winston"
Doc gets to place the unwanted coveted "Caption Contest Winner" logo on his blog.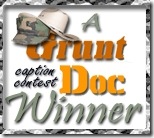 You delivered, BTW: 47 comments (not all were captions, but they're all welcome).  Thanks for playing.  We'll have another one when I have a suitable picture.