By the label.  Funny > interesting > anything else.
I'm not an oenophile.  Hardly.  I'm becoming a beer-o-phile, but that is a work in progress, and so far as I know there's no specific data on beer drinking being cardioprotective (as opposed to the 2 drinks a day isn't bad for you dictum).  Therefore, wine with some dinners (and never on a work day, I'm not a pilot…)
I bought this the other day, strictly based on the label: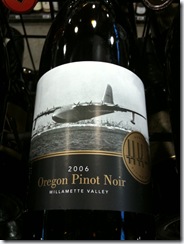 It's got everything I could want: interesting label, aviation link, and history!  Oh, and it's a wine of some sort.
So, not a sophisticate.  Again.