The other day my lovely wife bought a Ford. It's nice. (They sold her a car that'd already been sold; then made up for it by giving her a car with more options than the one she originally tried to buy and eating the difference. Thanks Ford!).
While she was beating the dealer until they cried negotiating I looked at the other show-room vehicles. And I found the Ford Mustang (genes and all).
I was thinking Steve McQueen, and Bullitt. Really.
The drivers' door wouldn't close (on the showroom floor) and then I saw the dash: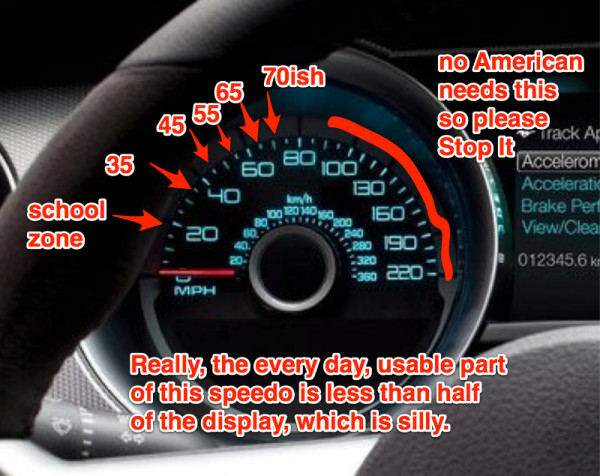 Seriously, nobody in the US (or Canada, eh), needs 1/2 of this speedo. Yes, there's a stretch or two of Texas highway that are 85, but 220? Drop this car out of a C-130 and it wouldn't do 220.
I get marketing. You want to sell this car as a True Sports Car with a lot of Speed!!! Here's the thing: as my eyes slowly age I don't want to have to squint at the 1/2 inch to discern the difference between 35 and 45 while knowing this bad boy won't go over 160, and never near 220. I don't need a big HUD to tell me, but this display is just dumb.
Thanks,
a guy who'd buy a Mustang but not one with this silly detail in it.